What problem does OpenPMF solve?

The policy gets very simple if you capture it in generic concepts.

OpenPMF lets you easily author such generic policies and many more advanced generic policies.
OpenPMF automatically calculates the matching technical rules & configurations.
Even better, such generic policies won't need to be changed often, even if your IT landscape changes! OpenPMF simply re-calculates the technical updates for you!
OpenPMF™ Makes Security Policy Manageable Through Automation
Our OpenPMF™ Security Policy Automation Platform  turns human-manageable security policies automatically into the matching preventive technical implementation.
It lets you manage security policies in customizable terms that matter to your organization.
You can use OpenPMF™ as a on-premises installation or as a cloud-hosted service.
Adopt security easily & flexibly
Align business, security, compliance, developers
Improve proactive security & agility
Adopt across many new & legacy technologies
Proven technology since 2000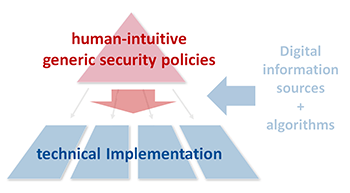 OpenPMF automatically bridges the semantic gap between human intuitive generic security policies and technical implementation.
Author generic policies using terms you choose
Generate technical rules & configurations at the click of a button
Enforce & monitor via OpenPMF's runtime, or export 3rd party configs.
Automatically update policies when your IT landscape changes
English language policy text exported at the click of a button.
Compliance documentation in English language exported automatically
Test policies before deployment (pre-release version)
Rapidly customize policies and enforcement for your organization
We generally favor 'model driven security' to actually execute and implement digital dynamic access control.
Mike Davis